The following story is a first hand account of the experiences of a staff member at Maison de Naissance during nationwide protests last November and February.
"My name is Christanaelle Lemorin, and I am the accountant at Maison de Naissance. During the times of protests and riots that occurred in November 2018 and February 2019, it was a very hard time in the communities around Maison de Naissance.
"The main road to our facility was completely blocked. As I was the only one available in administration, I was obliged to ask the staff to meet the birth center's truck at a bridge outside of Les Cayes, near an alternate route to Maison de Naissance. The normal route was very hard to pass because there were roadblocks everywhere, with burning tires and trees across the road. We were obliged to give bribes to remove the roadblocks every time to get through.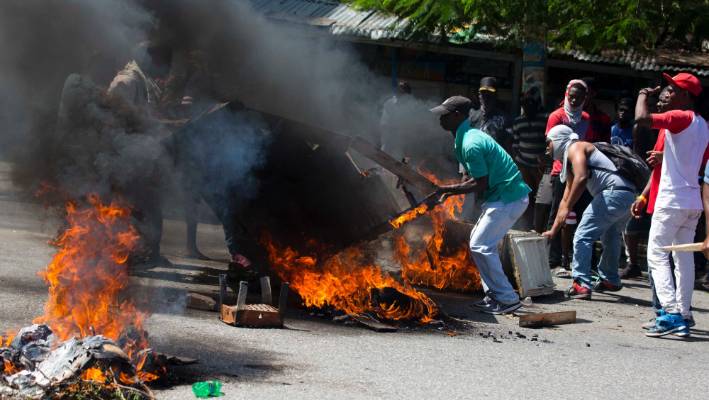 "Usually, the staff are picked up and dropped off at their homes, but it was not safe to drive into Les Cayes, so they had to walk to the bridge on the outside of town. It was a very difficult time for myself and for all of the staff who live in Les Cayes especially.
"As the truck was new and did not have a Maison de Naissance logo to prove that it's our vehicle, I printed out a paper with our logo on it and put it in the windshield.
"I remember one day, as we arrived at one bridge they threw a lot of rocks at the truck, and the driver had to turn around quickly while everyone in the truck had to bend below the windows in case a rock hit them. We encountered another roadblock, but fortunately there was the husband of a woman who gave birth at MN, and when he saw the paper MN logo in the windshield, he gave strict orders to let us through.
"Another time in February as we approached a roadblock on the way to the hospital carrying a mother with labor complications, a man ran up to us and yelled that if we did not turn around, they would set our truck on fire.
"We found a different route and eventually arrived safely at the hospital, but it was a terrifying experience."
We could not be more proud of the men and women at Maison de Naissance who overcome any adversity to ensure their patients receive the best possible care in every circumstance!